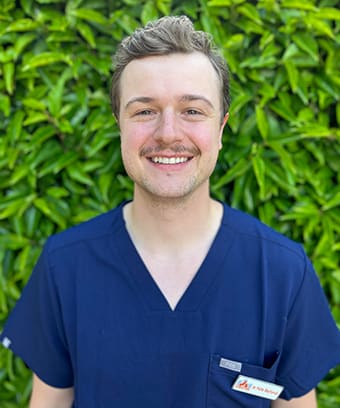 About Dr. Nathanael Bachynski
Dr. Bachynski was born in Thunder Bay, Ontario. This exposed him to the outdoors which naturally evolved into a passion for wildlife, and animals. Dr. Bachynski obtained an Honours Bachelor of Science, in Zoology, at the University of Guelph in 2016. He went on to the Ontario Veterinary College where he achieved a Doctor of Veterinary Medicine degree in 2020.  Following graduation, Dr. Bachynski moved to Charlottetown, PEI, to complete a Small Animal Rotating Internship (focusing on surgery and internal medicine) in 2021 at the Atlantic Veterinary College. Dr. Bachynski then started working in general practice in Niagara, Ontario, before moving to beautiful Victoria in 2023.
Dr. Bachynski lives in Victoria with his girlfriend and their home is warmed by Cassie; a very kind, old, Bichon Frise cross. In his spare time, Dr. Bachynski enjoys playing music, snowboarding, hiking, running, birdwatching, and he is an ok golfer. Dr. Bachynski cannot wait to meet your furry friend!
Caring for Pets in Victoria
Downtown Veterinary Clinic is accepting new patients! Get in touch today to book your pet's first appointment.