Dr. Martha Hall is a veterinarian in Victoria. She has a passion for endoscopy and ultrasound, and enjoys spending time with her husband, daughter and dog, Tinkerbell.
Book An Appointment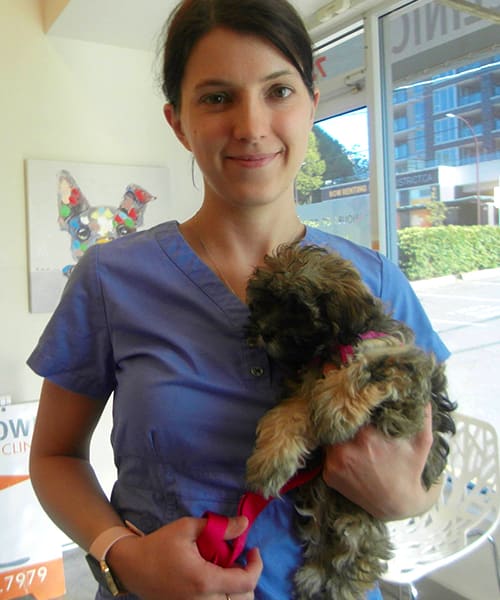 About Dr. Hall
Veterinary medicine has always been her passion since she was a child and becoming a veterinarian allowed her to travel and practice all over the world. She studied veterinary medicine in Melbourne, Australia, since she had always wanted to study abroad.
After receiving her degree, she had advanced her skills by doing an internship in downtown Toronto at the Veterinary Emergency Clinic where Martha spent time in specialties like neurology, internal medicine, oncology, cardiology, surgery, and emergency.
From there, Dr. Hall pursued an internship in internal medicine in Orlando, Florida, at the Affiliated Veterinary Specialists. She decided not to pursue a residency in internal medicine but it remains a special interest of hers. Other areas of interest include ultrasound and Chinese medicine.
In her spare time, Dr. Hall enjoys cooking, reading, hiking, and spending time with her dog, Tinkerbell, husband, and daughter.
Caring for Pets in Victoria
Downtown Veterinary Clinic is accepting new patients! Get in touch today to book your pet's first appointment.